Table of Contents
Gateway
BOM
1x Stripboard, cut to size so all parts fit with 1 hole to spare before edge
1x 28DIP ATMega328P
1x RFM69[H]W
1x TO-92 MCP1700 3.3V LDO
1x SMA 1/2 wave rubber antennaIdeetron SDK4-868-SMA - €7.40 each
1x 28-pin DIP Socket
1x SMA board connector (HAB supplies has them)
Build Guide
Step 1
Solder 28pin DIL IC socket to the strip board

Cut traces along the centre of the socket

Check that there is no conductivity between the two halves
Step 2
Connect voltage output to Vcc as well as ground

Solder header for Serial (Tx and Rx) (optional)
Step 3
Program the ATmega328 with the arduino bootloader

Upload simple script to the micro

Test that everything is working
Step 4
Solder connecting wires to RFM69HW (GND, NSS, SCK, MISO, MOSI)

Line up with the ATmega328's corresponding pins. You'll need to bend your connecting wires a bit to fit through the holes in the strip board. Solder these in place.

The other 2 pins that need to be connected are VCC and DIO0 which are best connected with insulated wire.
Step 5
Upload gateway script to test RFM69HW

Check either with Funcube or that it is repeating to other nodes
Step 6
Schematic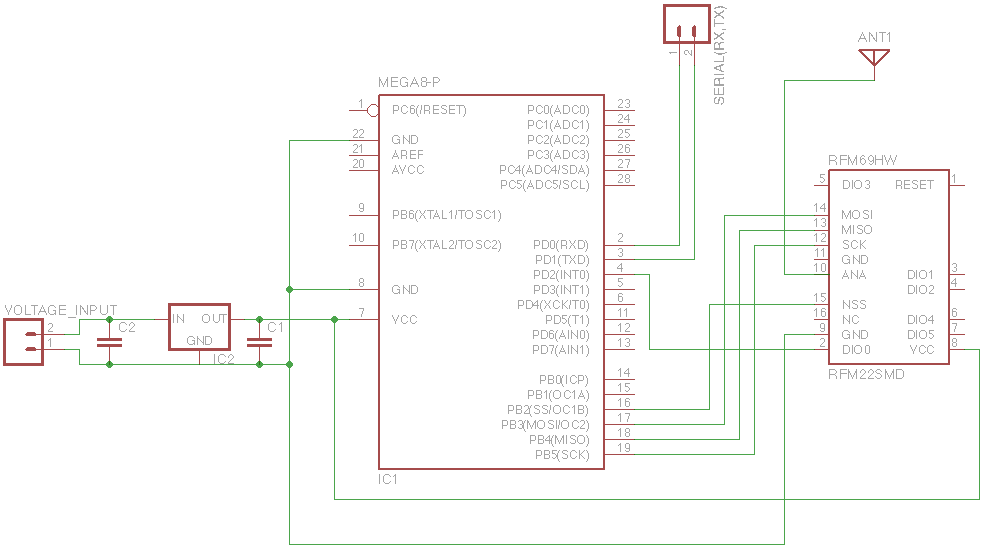 Uploading new arduino scripts
##############################################################

atmega328bb.name=ATmega328 on a breadboard (8 MHz internal clock)

atmega328bb.upload.protocol=stk500
atmega328bb.upload.maximum_size=30720
atmega328bb.upload.speed=57600

atmega328bb.bootloader.low_fuses=0xE2
atmega328bb.bootloader.high_fuses=0xDA
atmega328bb.bootloader.extended_fuses=0x07
atmega328bb.bootloader.path=arduino:atmega
atmega328bb.bootloader.file=ATmegaBOOT_168_atmega328_pro_8MHz.hex
atmega328bb.bootloader.unlock_bits=0x3F
atmega328bb.bootloader.lock_bits=0x0F

atmega328bb.build.mcu=atmega328p
atmega328bb.build.f_cpu=8000000L
atmega328bb.build.core=arduino:arduino
atmega328bb.build.variant=arduino:standard